Stay tuned for upcoming events. We are doing several zoominars on issues critical to Nepal and South Asia, and the US.
Latest Events
NPI – PRI Strategic Plans Zoominar:
Consultation Zoominar between Government of Nepal (GoN) initiated think tank PRI and NPI. Discussions touched on PRI's strategic plans and possible collaborations between two think tanks. Dr. Anil Sigdel shares his thoughts on DC think tank practices before the CEO of PRI Dr. Bishnu Raj Upreti and several eminent scholars. June 01, 2020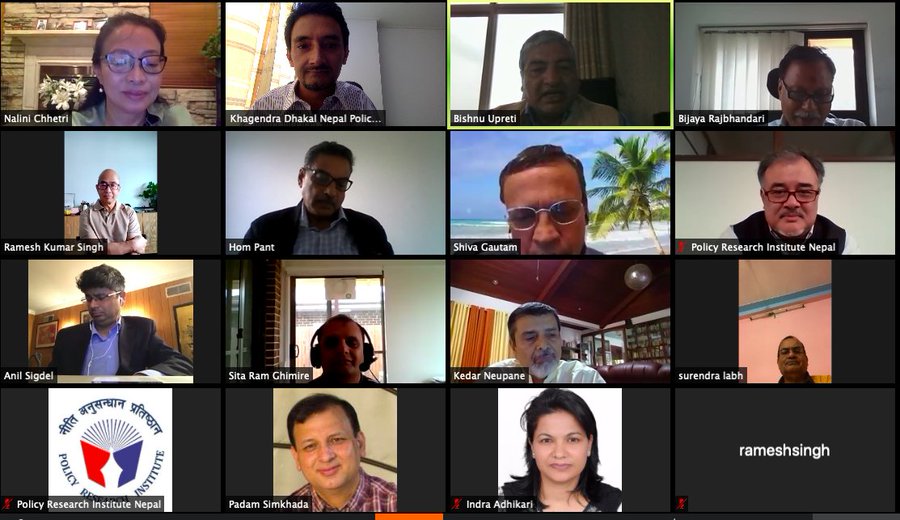 NPI and GoN's National Planning Commssion Policy Dialogue Series I
NPI expert community — prominent scholars and practitioners from around the world — provided their expertise and shared the best practices across the globe to contribute to the Government of Nepal's Social and Economic Recovery Plans after Covid_19. Dr. Anil Sigdel shares ideas about how Nepal should tap into changing regional and global supply chain. May 23, 2020
Reports also available at this link: https://www.linkedin.com/company/nepal-policy-institute/
Past Events
An interaction with Prof. Frank Shafroth, George Mason University, Washington DC on the matters of federalism and its challenges in Nepal.
-Nepal Matters for America interacts with the Nepalese diaspora on October 14, 2017 at NOVA College, Annandale, Virginia. H E Ambassador of Nepal to the US Dr. Arjun Karki will be the chief guest of the event.
-Dr. Anil Sigdel has panel discussions and presentations at the American University, Washington, DC on October 13, 14.
-Nepal Matters for America interacts with the Nepalese diaspora community in Woodbridge, VA; 07/23/2017; 1.00 to 3.00 pm
-Nepal Matters for America meets Congressman Jared Polis,, Co-chair Nepal Caucus
Canceled Events
An interaction program with Prof. Raidin, Georgetown University, Washington DC.